海外向け情報サイト「AKIBA Today」開設-アキバ発世界へ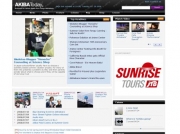 画像=Akiba Todayサイトトップイメージ
 ウェブ制作などを手がけるマーキュリーシスコム(渋谷区)は7月30日、秋葉原の英語ニュースポータルサイト「AKIBA Today(アキバ トゥデイ)」をオープンした。

 「AKIBA Today」は秋葉原を核とする日本のオタク文化の動向と秋葉原の街の情報を、ウェブを中心に「アキバ発世界へ」情報配信を行うサイト。コンテンツは、ニュースをはじめ、フィーチャー(特集)やコラムのほか、ショップリストや同リストと連動したマップ、日本語レッスン、動画などをラインアップする。

 デジタルハリウッド・エンタテインメント(千代田区)と共同で「アキバ経済新聞」を運営している同社が各方面からの英語版秋葉原情報サイトの立ち上げ要望に応えるかたちで開設したという同サイト。今後は、今年度中に月間500万PVを目指すほか、官公庁や旅行会社などのアライアンス先と提携し、コンテンツの充実を図っていきたいという。
うはぁ、ついにこんなサイトが出来ちゃいましたか。
デジハリが手を出しているんですね。
私も、以前に通ったことがあります。
残念ながら、その後の仕事には結びつきませんでしたガ。orz
しかし、楽しそうな仕事です。
こういう仕事にかかわりたいと思っていたはずなのに・・・むむむ。
Overseas information site "AKIBA Today" establishment. To the world from
Akihabara
Image = Akiba Today site top image
Marcureshiscom (Shibuya Ward) that worked on the web production etc. opened English news portal site in Akihabara "AKIBA Today (Akibatudei)" on July 30.
As for information on the town in the trend of the Otaku culture of Japan that makes Akihabara a nucleus and Akihabara, "
AKIBA Today
" is a site where "World from Akihabara" information is delivered around the web. Contents improve a map, a Japanese lesson, and the animation, etc. that synchronize with the shop list and this list besides the feature (feature) and the column including news in the line.
The same site of having established it in shape that this company that has managed "Akihabara economic newspaper" in cooperation with digital Hollywood entertainment (Chiyoda Ward) satisfies start-up demand of English Han'akihabara information site from each district. It is said that it wants to attempt the enhancement of contents in cooperation with the alliance such as government and municipal offices and travel agencies ahead besides aiming at five millionPV during month by the end of this fiscal year in the future. .. finally?
Degehari has put out the hand.
I also have passed before.
To our regret, it did not relate to work afterwards. orz
However, it is work that seems to be happy.
It should have wanted to be related to such work and ・・・
Will you do work to introduce information on otaku outside Japan with one and me who is
looking at this site?